Main Library, Friday, August 2, 9:30 am - 4:00 pm
The Louisville Free Public Library is celebrating ten years of Animecon! The annual convention is a day-long celebration featuring anime-themed activities, games, contests, and more - FREE.
Highlights of this yearís event will include a performance by the Cincinnati-Dayton Taiko Drumming Group, a workshop on stop-motion animation, the annual ramen noodle eating contest, costume contests and anime screenings.
This event is free -
Click Here
to register or call 574-1620.
Teens ages 12-19.
[ 209 comments ]
( 4395 views )
---
Batgirl Vol. 1: The Darkest Reflection
(The New 52).
Barbara Gorden/Batgirl might be a protťgť of Batman and the commissioner's daughter, but she can hold her own in Gotham City. Sheís a master of karate and a genius to boot. The Darkest Reflection begins shortly after Gorden recovers from three years of paralysis. She is racked with survivorís guilt and has flashbacks to the night she opened the door to find the Joker, who then shot her and left her to die. Gorden struggles to overcome posttraumatic stress disorder and regain her physical and psychological strength while reentering the crime fighting scene. Youíll learn about other members of the Bat Family and get a glimpse into Batmanís extended universe.
Further Reading
Batman: The Killing Joke
by Alan Moore.
The Killing Joke details the events following Barbara Gordenís shooting. The open-ending will give you the creeps and send you searching for the sequel (spoiler, there isnít one).
Birds of Prey: Of Like Minds
by Gail Simone.
After she is paralyzed by the Joker, Batgirl the crime-fighting librarian becomes Oracle the wheelchair bound computer genius and hacker extraordinaire. Oracle leads the Birds of Prey, a team of crime fighting women involved in global espionage.
Swamp Thing Vol 1: Raise Them Bones
(The New 52) by Scott Snyder.
Swamp Thing plays homage to classic b-movie horror films and he is THE environmentalist super hero (move over Captain Planet). In some versions of Swamp Thing, the character is Alec Holland turned monster from the swamp but Snyderís antihero sticks to the Alan Moore backstory of a plant creature with the memories of the deceased Alec Holland. In this story, he has regained his human form but cannot forget his time as Swamp Thing. This story is pure horror as Holland finds himself in an age old battle between the Green and the Rot.
Further Reading
Anything by
Scott Snyder
, he seems to be writing every new DC title and with his talent itís clear why.
Saga of the Swamp Thing
by Alan Moore.
This graphic novel should sway anyone who doesnít believe comics can be high art, while remaining true to its roots in pulp horror. Read this Alan Moore masterpiece, then read everything else heís written.
What was the first superhero comic you read? Do you have a suggestion for new comic readers? Have you enjoyed any of The New 52? Let us know in the comments.
-Ruth Houston, Teen Services,
Teen Underground @ Main
[ 192 comments ]
( 4239 views )
---
The Dizzy Feet Foundation
is sponsoring this day-long dance marathon, and their website has some great videos of dances you can learn choreographed by the cast of
So You Think You Can Dance?
Your Dance Routine
The Dizzy Feet Foundation would also like you to upload videos of your own dance routines to their website and show America how you like to celebrate National Dance Day.
Where can you find music to create your awesome dance routines? At your local library of course! Did you know that all of our branches have popular albums by artists such as
Ke$ha
and
Justin Timberlake
? Whether you like to pop, shuffle, or pirouette, we have the music you need to choreograph the next dance craze.
For your ballet and jazz routines, you can take advantage of the libraryís free music streaming service
Naxos
, which offers more than 82,850 CDs that feature classical and jazz music if hip-hop and popping just arenít your style. You can even make themed playlists of your favorite dance music.
Take some time this summer to celebrate National Dance Day and get moving! Also remember that the library has a lot more to offer than books. We have a great selection of music including some artists that may surprise you!
-Lynn Johnson, Childrenís Services Supervisor,
Westport Community Library
[ 195 comments ]
( 3614 views )
---
Shawn Goodmanís
Something Like Hope
is a beautifully sad story that captivates its readers. Its main character, Shavonne, can only be described as interesting. She is often conflicted by determining the better option: right or wrong. And she usually opts for wrong.
As a confused teen girl who is locked up in a mental institution, she feels as if wrong is the only option. She is close to being released and simply does not want to be. The hospital is all she knows. It is her comfort zone, and she has no desire to step out of it. That is until she meets Mr. Delpopolo. Heís her new therapist and the only one who does not hold her situation against her. He treats her like a person and not a patient.
Can Mr. Delpopolo get her to open up about the secret that is consuming her? Is he able to convince her that she deserves happiness? Freedom? Love?
-Alexis, Children and Teen Services,
Okolona Branch
[ 195 comments ]
( 3158 views )
---
Salt
. You'll never look at your French fries the same way again.
A Few Grains of History
We humans have an interesting relationship with salt. This mineral, primarily consisting of Sodium (Na) and Chloride (Cl) atoms sharing a weak covalent bond, is often combined with other elements such as Calcium and Potassium. Salts are the resulting product of a neutralization reaction of a strong base and weak acid, like your traditional baking soda (sodium bicarbonate, base) and vinegar (acetic acid) volcanoes from elementary school.
Though I wouldn't eat the result if I were you
!
Humans require sodium as a nutrient, but we cannot manufacture it within our bodies, which means that in order to get it, we have to eat it. In the body, sodium regulates our water balance, helps manage our body's pH, and is active in the absorption of other nutrients in the small intestine.
The reason that salty foods like French fries and chips taste so good to us is, because we have evolved to seek out salty foods to stay alive. This is problematic now, because just about all of our prepared foods have salt added to them for seasoning and as a preservative. The key for humans to stay healthy now is to have the
appropriate balance
of salt.
Salt has also been important in the development of human civilization in a variety of ways (See the above clip from the History Channel). Most notably, as a key component to food preservation, salt helps to kill disease-causing bacteria in our food. It does so by drawing enough water from bacterial cells to stop cell reproduction.
There are a few different ways that salt can be produced for human consumption--mainly through evaporation from saline or seawater and by mining mineral deposits. Like any other commodity, nations close to the resource have an economic advantage. As a valuable spice, salt has been a traded commodity, a form of currency, and even caused war between nations.
Salt is currently receiving a bit of attention because of growing fresh water scarcity. According to the USGS, less than 3% of the Earth's water is fresh, the only water that can be used for hydration. A decreasing amount of fresh water is available due to a current recession in glacial waters and icecaps and over irrigation in agriculture, which reduces groundwater aquifers. Scientists are now turning toward advances in technology that allow us to yield fresh water from salt water.
Sounds easy enough, right? Just take out the salt. The process is actually fairly complex and takes a tremendous amount of energy.
Low-Tech Home Experiment
Here is a simple low-tech science experiment that will allow you to use passive solar energy to distill your own water (this video is brought to you by the St. Louis Science Center). Give it a shot. Readers and fans of the hit 2012 film adaptation of Yann Martel's
Li of Pi
will notice that this process was used by young Pi to get fresh water on the lifeboat.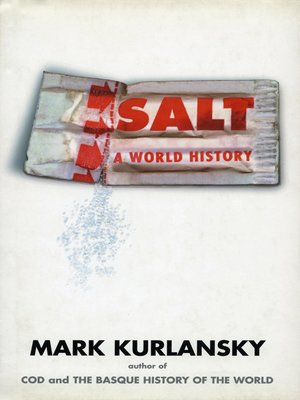 Further Reading
Keeping with the theme of this week's earlier post on nonfiction, here is a great read that looks at the natural history of salt and the important role that it plays in the development of human civilization. Check it out from your library: available as
hardcopy
and as an
eBook
.
[ 193 comments ]
( 5112 views )
---
<<First
<Back
| 8 | 9 | 10 | 11 | 12 | 13 | 14 | 15 | 16 | 17 |
Next>
Last>>