The Dizzy Feet Foundation
is sponsoring this day-long dance marathon, and their website has some great videos of dances you can learn choreographed by the cast of
So You Think You Can Dance?
Your Dance Routine
The Dizzy Feet Foundation would also like you to upload videos of your own dance routines to their website and show America how you like to celebrate National Dance Day.
Where can you find music to create your awesome dance routines? At your local library of course! Did you know that all of our branches have popular albums by artists such as
Ke$ha
and
Justin Timberlake
? Whether you like to pop, shuffle, or pirouette, we have the music you need to choreograph the next dance craze.
For your ballet and jazz routines, you can take advantage of the library's free music streaming service
Naxos
, which offers more than 82,850 CDs that feature classical and jazz music if hip-hop and popping just aren't your style. You can even make themed playlists of your favorite dance music.
Take some time this summer to celebrate National Dance Day and get moving! Also remember that the library has a lot more to offer than books. We have a great selection of music including some artists that may surprise you!
-Lynn Johnson, Children's Services Supervisor,
Westport Community Library
[ 195 comments ]
( 3613 views )
---
Shawn Goodman's
Something Like Hope
is a beautifully sad story that captivates its readers. Its main character, Shavonne, can only be described as interesting. She is often conflicted by determining the better option: right or wrong. And she usually opts for wrong.
As a confused teen girl who is locked up in a mental institution, she feels as if wrong is the only option. She is close to being released and simply does not want to be. The hospital is all she knows. It is her comfort zone, and she has no desire to step out of it. That is until she meets Mr. Delpopolo. He's her new therapist and the only one who does not hold her situation against her. He treats her like a person and not a patient.
Can Mr. Delpopolo get her to open up about the secret that is consuming her? Is he able to convince her that she deserves happiness? Freedom? Love?
-Alexis, Children and Teen Services,
Okolona Branch
[ 195 comments ]
( 3155 views )
---
Salt
. You'll never look at your French fries the same way again.
A Few Grains of History
We humans have an interesting relationship with salt. This mineral, primarily consisting of Sodium (Na) and Chloride (Cl) atoms sharing a weak covalent bond, is often combined with other elements such as Calcium and Potassium. Salts are the resulting product of a neutralization reaction of a strong base and weak acid, like your traditional baking soda (sodium bicarbonate, base) and vinegar (acetic acid) volcanoes from elementary school.
Though I wouldn't eat the result if I were you
!
Humans require sodium as a nutrient, but we cannot manufacture it within our bodies, which means that in order to get it, we have to eat it. In the body, sodium regulates our water balance, helps manage our body's pH, and is active in the absorption of other nutrients in the small intestine.
The reason that salty foods like French fries and chips taste so good to us is, because we have evolved to seek out salty foods to stay alive. This is problematic now, because just about all of our prepared foods have salt added to them for seasoning and as a preservative. The key for humans to stay healthy now is to have the
appropriate balance
of salt.
Salt has also been important in the development of human civilization in a variety of ways (See the above clip from the History Channel). Most notably, as a key component to food preservation, salt helps to kill disease-causing bacteria in our food. It does so by drawing enough water from bacterial cells to stop cell reproduction.
There are a few different ways that salt can be produced for human consumption--mainly through evaporation from saline or seawater and by mining mineral deposits. Like any other commodity, nations close to the resource have an economic advantage. As a valuable spice, salt has been a traded commodity, a form of currency, and even caused war between nations.
Salt is currently receiving a bit of attention because of growing fresh water scarcity. According to the USGS, less than 3% of the Earth's water is fresh, the only water that can be used for hydration. A decreasing amount of fresh water is available due to a current recession in glacial waters and icecaps and over irrigation in agriculture, which reduces groundwater aquifers. Scientists are now turning toward advances in technology that allow us to yield fresh water from salt water.
Sounds easy enough, right? Just take out the salt. The process is actually fairly complex and takes a tremendous amount of energy.
Low-Tech Home Experiment
Here is a simple low-tech science experiment that will allow you to use passive solar energy to distill your own water (this video is brought to you by the St. Louis Science Center). Give it a shot. Readers and fans of the hit 2012 film adaptation of Yann Martel's
Li of Pi
will notice that this process was used by young Pi to get fresh water on the lifeboat.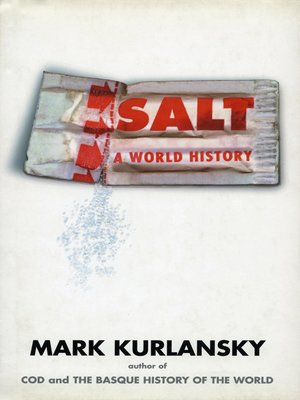 Further Reading
Keeping with the theme of this week's earlier post on nonfiction, here is a great read that looks at the natural history of salt and the important role that it plays in the development of human civilization. Check it out from your library: available as
hardcopy
and as an
eBook
.
[ 193 comments ]
( 5109 views )
---
The Hunger Games
movies (way to go casting department). And again, maybe it's just me, but sometimes when I'm reading I pause and wonder…if this were made into a movie who would be the cast?
I know I'm not alone in this.
Tell me I'm not alone in this.
I am currently obsessed with (and have been for some time) Kelley Armstrong's
Darkest Powers
trilogy as well as the recently finished companion series,
Darkness Rising
.
Personally, I think this series would make an amazing TV show. Think about it. The series is about a group consisting of a necromancer, a werewolf, a witch and a wizard who are on the run from a group of mad scientists' intent on killing them. Here's the summary taken from the library website: After fifteen-year-old Chloe starts seeing ghosts and is sent to Lyle House, a mysterious group home for mentally disturbed teenagers, she soon discovers that neither Lyle House nor its inhabitants are exactly what they seem, and that she and her new friends are in danger.
And to show the inordinate amount of time that I have spent thinking about the Darkest Powers, here is my dream cast list
(click each name to view the actor's IMDB profile)
:
Agree or disagree? What is your dream cast for your favorite series? And in case you couldn't tell…I highly recommend
Darkest Powers
. I did mention the necromancer and the mad scientists didn't I?
-Tya Harlan, Children's & Teen Services,
Western Branch
[ 204 comments ]
( 4921 views )
---
Weird Kentucky
by Jeffery Scott Holland
The ghostly "Lady in Blue" of the Seelbach Hotel? A medieval castle in Lexington? A half-goat, half-man monster spotted on an abandoned train trestle off Taylorsville Rd? All these strange phenomena of the bluegrass state and many more can be found in
Weird Kentucky
. Sometimes the truth really is stranger than fiction.
Women Heros of World War II
by Kathryn J. Atwood contains twenty-six intriguing and suspense-filled stories about women and girls who refused to sit on the sidelines during WWII and who risked their lives to defeat the Nazis.
The Look Book
by Erika Stadler features the signature looks of beauty icons from the twentieth and twenty-first centuries and gives step by step instruction on how to achieve any featured look. From Jackie Kennedy's frosted pink lips to Kat Von D's smoky eyes, this book covers any look you've ever wanted to try! A brief yet informative biography of each style icon is also included, so besides learning awesome new hair and makeup tricks, the reader can learn about the lives of these amazing women.
Poetry Speaks who I am
edited by Elisa Paschen
With over 100 poems by a wide range of poets,
Poetry Speaks who I am
is a wonderful collection for already established lovers of poetry and those who are interested in learning more about the written art form. The anthology also includes an audio CD that features recordings of poets such as Robert Frost reading their original work.
Scalpels, Stitches and Scars
by John Townsend
Squeamish readers beware!
Scalpels, Stitches, and Scars
highlight's bizarre and gruesome medical practices throughout history. From ancient South American tribes using the jaws of army ants to stitch up wounds to "living bandages" created from patient's own skin cells, this book is a fascinating ride through the history of surgery. There are many full color photos throughout the book as well which could be considered a good or bad thing depending on your gross-out tolerance.
I hope you'll be inspired to peruse the shelves of your local library for one of these gems! If you have any nonfiction reads that you would like to share please post in the comments section below.
-Claire Cecil, Youth Services,
Jeffersontown Branch
[ 179 comments ]
( 4498 views )
---
<<First
<Back
| 8 | 9 | 10 | 11 | 12 | 13 | 14 | 15 | 16 | 17 |
Next>
Last>>