Keep an eye on our program calendar for upcoming programs. You can click on "Events by Location" to check for programs at a specific branch, or click on "Events by Type" and then on "Teens" to look for teen programs at all the branches at once. Just FYI, it's always a good idea to call the branch hosting the program to register beforehand so they don't run out of room or supplies for the program.
(source: commons.wikimedia.org/wiki/File:Dr_Who_(316350537).jpg)
Programs for September
Just to give you an idea of what's coming up in September: At Middletown we are having a celebration of all things Doctor Who on September 30 at 4 pm where you can come dressed up as your favorite Doctor, Companion or Villain for the costume contest and show up how knowledgeable you are about our favorite Gallifreyen with the trivia contest! Middletown will also have a Digital Cartooning program on September 25th at 4 pm. Also keep an eye out for Teen Tuesdays at Iroquois at 3:30 with DIY tech for comics, microcomputers, coding and app making. Fairdale has Tabletop Roleplaying gaming on Tuesdays at 4 pm. On September 5th at Newburg will be Open Mic Night with Prolific at 6 pm. Southwest Branch will host the Teen Code Club September 9th at 3:30, and Westport will have a Digital Collage program on September 11th at 3:30. You can decorate your Teen Summer Reading messenger bag at Jeffersontown September 9th at 4 pm and attend the Mortal Instruments party at St. Matthews September 14th at 3 pm!
Looking ahead to October
We also have tons of programs planned for October: At Middletown on October 29th at 4 pm we are celebrating the Day of the Dead with sugar skulls and papel picados. The Highlands/Shelby park branch will host its annual Teen Halloween Party on October 31st at 4 pm, and you can make Q-tip skeletons at Southwest on October 30th. Bon Air's Teen Book Club will have a literary showdown between Suzanne Collins and Veronica Roth. You can Get Your Craft on at Jeffersontown October 21st at 4 pm. Fairdale will have an Origami Night October 17th at 6 pm, and check out the Teen Art Club at Shawnee October 10th at 6:30 pm.
I have barely scratched the surface of teen programming at LFPL over the next couple of months. Please look at our
Calendar of Events
to see a list of all the upcoming teen programs. Hope to see you at some of them!
-Emily Mauldin, Youth Services,
Middletown Branch
[ 208 comments ]
( 3861 views )
---
Now that summer has moved into the school year, we are going to continue with our original mission of delivering posts revolving around technology. For our first week back, we are going to look a fun project that you can do on your own for a school project or fun with your friends and family: making a QR code scavenger hunt!
You may have joined us for a hunt this summer at the Library's Teen Survivor Night and Animecon X.
A Little QR History
First developed by a subsidiary of Toyota in the mid-1990s, QR codes (short for Quick Response Code) were initially designed to track vehicle parts during manufacturing (much like a grocery scanner tracks inventory from UPC codes). Due to the high amount of data that can be stored, QR codes were adopted for other applications, most notably the advertising industry. QR codes can hold a URL address that, when scanned with a smartphone, takes the user directly to a website. This makes accessing a site much quicker that manually typing the site address and utilizing a search engine.
There are multiple free apps that you can use to scan and retrieve information from QR codes. To find one, search your App marketplace, any of the free apps will work just fine.
Since QR codes can hold large types of data (like really long URL addresses), they are the perfect tool for creating a digital scavenger hunt.
What do QR Codes have to do with Scavenger Hunts, exactly?
Since QR's can hold data types, like URL addresses, you can set up a website that holds information leading a seeker toward clues.
Try scanning or clicking the code at the top of the page
.
When the user scans a QR, they are taken to a web page that holds the information that will lead them to the next code. When they scan the next code, they will be taken to another webpage that has all the information for finding another clue until they reach the end.
Making Your own Scavenger Hunt
To make your own scavenger hunt, you'll first need to make your own website with as many pages as you have clues. For more information on making your own site,
click here
. (We used Weebly.com to quickly create our own free site)
Next, transform all the URL address for each page of your site into a QR code. We used
goo.gl
URL shortener. Just click details under the shortened URL after verifying the captcha. You will be able to save the QR image for the hunt.
Print and hide the QR's within the parameters of the hunt boundaries, and edit the pages to give clues to the next code. Be sure to hide the pages on the home page when editing your site, or else the player can simply click the link to the last clue and find the prize.
A Hunt of Epic Proportions
If you can't get enough of scavenger hunts, give
Munzee
a shot. This combines QR hunts with GPS technology to lead you to hides in 50 different countries. This does require you to have an additional device with a GPS receiver, but most smartphones have that.
Awesome Treasure Hunt Reads
If you enjoy seeking treasure or a good scavenger hunt, then be sure to check out these great books from your Library. Special thanks to Heather at the
St. Matthews Library
and Lindsay at
Southwest
for the reading recommendations!
[ 218 comments ]
( 11180 views )
---
Today we will discuss the information that you can access through the Library's
Research Tools
and Jefferson County Public School's
Practice Your Skills
. There are different Practice Your Skills sections for each level of education Elementary, Middle, and High once you click on the Students link from the JCPS website.
By having a library card, you can access a variety of databases and research sources from the Library's website. Anything from Arts & Entertainment to Test Preparation is readily awaiting your use.
(Don't forget High School students with ACT test coming up the study guides and practice tests)
For the JCPS site, you do not need anything but a computer with internet access. Narrow your lessons by grade and content area. Some of the homework help tools may be cut-and-dry lessons, while some may have a game to go along with a lesson, like Math Baseball.
-Micah Followay,
Shively-Newman Branch
[ 199 comments ]
( 5021 views )
---
Salt
. You'll never look at your French fries the same way again.
A Few Grains of History
We humans have an interesting relationship with salt. This mineral, primarily consisting of Sodium (Na) and Chloride (Cl) atoms sharing a weak covalent bond, is often combined with other elements such as Calcium and Potassium. Salts are the resulting product of a neutralization reaction of a strong base and weak acid, like your traditional baking soda (sodium bicarbonate, base) and vinegar (acetic acid) volcanoes from elementary school.
Though I wouldn't eat the result if I were you
!
Humans require sodium as a nutrient, but we cannot manufacture it within our bodies, which means that in order to get it, we have to eat it. In the body, sodium regulates our water balance, helps manage our body's pH, and is active in the absorption of other nutrients in the small intestine.
The reason that salty foods like French fries and chips taste so good to us is, because we have evolved to seek out salty foods to stay alive. This is problematic now, because just about all of our prepared foods have salt added to them for seasoning and as a preservative. The key for humans to stay healthy now is to have the
appropriate balance
of salt.
Salt has also been important in the development of human civilization in a variety of ways (See the above clip from the History Channel). Most notably, as a key component to food preservation, salt helps to kill disease-causing bacteria in our food. It does so by drawing enough water from bacterial cells to stop cell reproduction.
There are a few different ways that salt can be produced for human consumption--mainly through evaporation from saline or seawater and by mining mineral deposits. Like any other commodity, nations close to the resource have an economic advantage. As a valuable spice, salt has been a traded commodity, a form of currency, and even caused war between nations.
Salt is currently receiving a bit of attention because of growing fresh water scarcity. According to the USGS, less than 3% of the Earth's water is fresh, the only water that can be used for hydration. A decreasing amount of fresh water is available due to a current recession in glacial waters and icecaps and over irrigation in agriculture, which reduces groundwater aquifers. Scientists are now turning toward advances in technology that allow us to yield fresh water from salt water.
Sounds easy enough, right? Just take out the salt. The process is actually fairly complex and takes a tremendous amount of energy.
Low-Tech Home Experiment
Here is a simple low-tech science experiment that will allow you to use passive solar energy to distill your own water (this video is brought to you by the St. Louis Science Center). Give it a shot. Readers and fans of the hit 2012 film adaptation of Yann Martel's
Li of Pi
will notice that this process was used by young Pi to get fresh water on the lifeboat.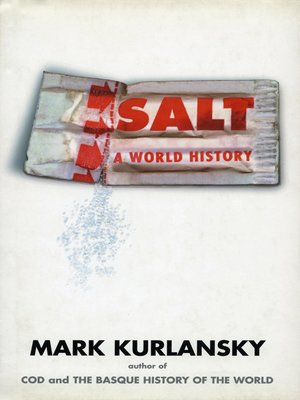 Further Reading
Keeping with the theme of this week's earlier post on nonfiction, here is a great read that looks at the natural history of salt and the important role that it plays in the development of human civilization. Check it out from your library: available as
hardcopy
and as an
eBook
.
[ 193 comments ]
( 5109 views )
---
Plants and animals alike depend on Nitrogen to promote growth. Plants use Nitrogen in chlorophyll molecules, which are a primary component in photosynthesis. All amino acids contain Nitrogen, and animals need amino acids to synthesize proteins and convert energy for growth and function.
Our atmosphere is approximately 78% Nitrogen, which sounds like there is an abundance of N available for plant and animal productivity, but atmospheric Nitrogen (N2) is unusable by plants and animals, because the N atoms are bound together in a triple bond. For uptake by plants and animals, N2 has to go through a series of conversions.
Nitrogen Conversion

Nitrogen Fixation - N2 is converted to NH3 (ammonia) by lightning strikes and soil-dwelling, symbiotic bacteria living on leguminous plants.
Assimilation - nitrate (NO3-) and ammonium (NH4+) uptake from plant root hairs in soil
Ammonification - plant and animal waste (detritus) is converted from organic matter into ammonium
Nitrification - conversion of ammonia to nitrites (NO2-) which is then oxidized to nitrates by soil living bacteria
Denitrification - reduction process of nitrates back into atmospheric gas (N2) by bacteria in anaerobic conditions. This last portion of the process is important, because it keeps the cycle in balance.

Human Contribution
Agriculture is heavily dependent on the productivity of soil for plant growth. Starting in the first decade of the 20th Century, scientists started synthesizing ammonia by combining atmospheric N2 with Hydrogen gas (H2)--usually derived from methane (CH4). For more on this process, see Haber-Bosch.

While this process creates a readily accessible form of Nitrogen fertilizer for farmers, it can potentially impact the environment in a harmful way. Excess fertilization with Nitrogen and Phosphorus can wash out of farm fields and end in up in water systems.

An overabundance of these fertilizers can lead to a rapid genesis of potentially harmful algal blooms in waterways. Phytoplankton varieties of algae are plant species and react similarly to fertilizers as terrestrial plants would. This rapid growth can cause an over-use of dissolved oxygen in the water creating a hypoxic aquatic ecosystem, forcing out other organisms.

The take home message when it comes to synthetic Nitrogen fertilization is: balance.

Getting to Know the Nitrogen Cycle
One great way to experience the Nitrogen Cycle for yourself is to start a compost heap. The key to a successful compost operation is balancing the relationship of elemental components, or stoichiometry. Creating a Nitrogen-rich compost heap will allow you to safely fertilize a garden while participating in the Nitrogen Cycle.





For more on composting, be sure to check out Let it Rot!, a capstone volume on composting, and other eBooks at your library.

[ 284 comments ] ( 13663 views )

---




<<First <Back | 6 | 7 | 8 | 9 | 10 | 11 | 12 | 13 | 14 | 15 | Next> Last>>