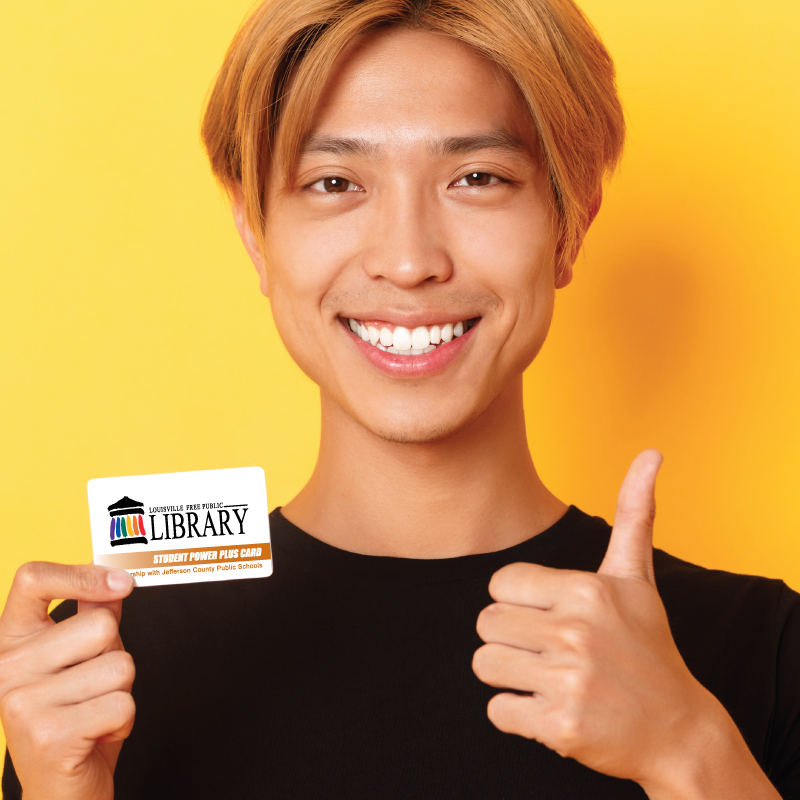 Student Power Plus Card
The Student Power Plus Card is a partnership with Jefferson County Public Schools, the Archdiocese of Louisville, and other private schools.
Student Power Plus Cards are sent to, and distributed by, participating schools.
What can you do with a Student Power Plus Card?
With a Student Power Plus Card, you can enjoy all of the privileges of a LFPL cardholder, including:
Checking out books, eBooks, audiobooks, magazines, videos, DVDs, music, and more.
Get live, online homework help with Brainfuse HelpNow.
Access research tools online, including full-text articles from newspapers, magazines, and reference books.
Take practice tests for the SAT, ACT, GED, ASVAB and some AP exams using the Learning Express Library.
Use library computers to connect to the Internet, type papers, create slide show presentations, play games, connect with friends, edit digital photographs, make digital art, and much more.
Reserve books and pick them up at your local branch library.
View events on the library's website and find out about storytimes, after school clubs, book discussion groups, and other fun programs to attend.
If you lose your Student Power Plus Card, call (502) 574-1611. A new card will be mailed to you.
How to get a Student Power Plus Card
Contact the principal at your school about participating in the Student Power Plus Card Program, or call the Main Library Children's Department at (502) 574-1620.