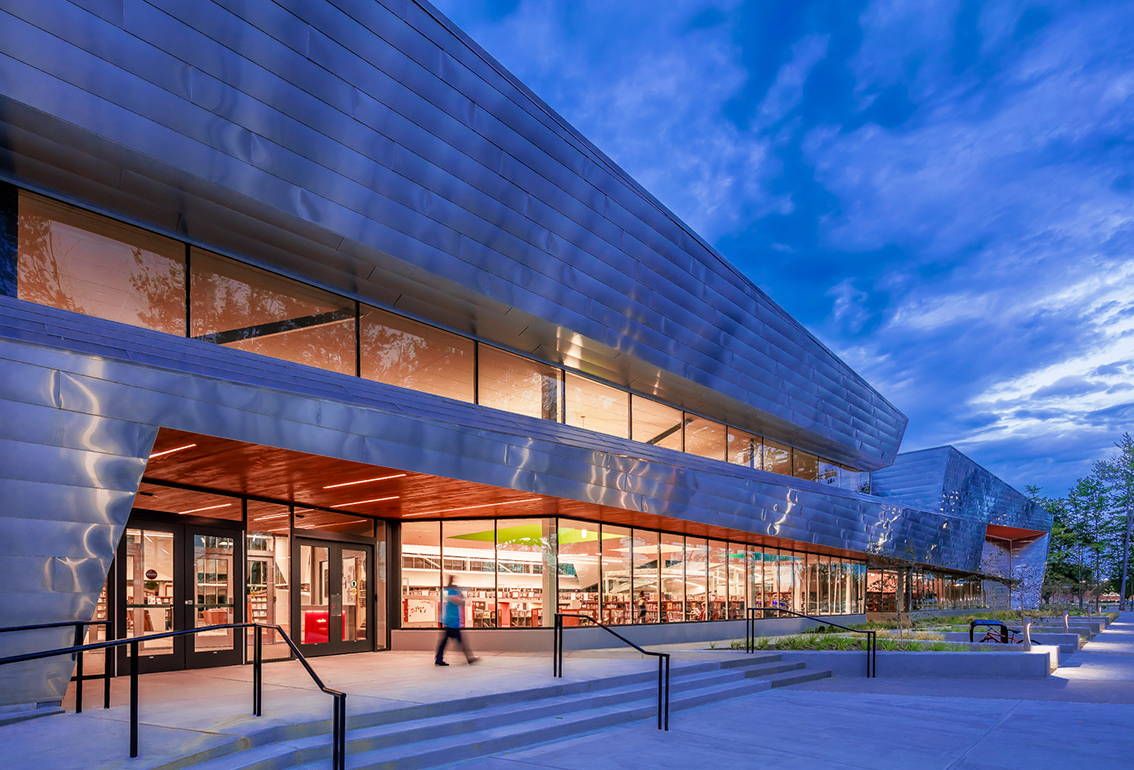 CONTACT
7300 Jefferson Blvd.,
Louisville, KY 40219
(502) 964-3515
HOURS
Mon: 9 a.m. – 9 p.m.
Tue: 9 a.m. – 9 p.m.
Wed: 9 a.m. – 9 p.m.
Thu: 9 a.m. – 9 p.m.
Fri: 9 a.m. – 5 p.m.
Sat: 9 a.m. – 5 p.m.
Sun: 1 p.m. – 5 p.m.
DIRECTIONS
ACCESSIBILITY
Accessible parking and a wheelchair ramp are available directly in front of the building, to the left. The Community Room is outfitted with Hearing Loop technology to provide library patrons with improved clarity using the listeners' own telecoil-enabled hearing aids or cochlear implant. Also, the South Central Regional Library has a designated computer with accessible technology (Example: JAWS®).
HISTORY
Though memories have been handed down through the years of bookshelves in stores where one could "borrow" to read, the first official library in Okolona was established in 1958 in the Okolona Community Center (which later became the Okolona Woman's Club on Blue Lick Road). Mrs. Stanley Williams was the first librarian, with the able assistance and direction of Ms. Mary Morgan, librarian at Southern High School. Okolona Woman's Club members manned the facility that started with 800 donated books.
Growth demanded a move to Southern High School, and from there the library moved to quarters in a mobile unit in the shopping center across from Southern. In 1985 a new library was constructed at 8003-R Preston on property donated by Cumberland Bank. Growth then demanded another move . . . this time when places were exchanged with the Jefferson County Police and Employees Credit Union at 7709 Preston.
Still located in Okolona, this latest move also comes with a name change: the South Central Regional Library. This new, modern regional library is more than four times larger than the previous location. A spectacular quilt made by the Okolona Women's Club is on permanent display in the new South Central and showcases the history and community pride of Okolona.
ABOUT
The South Central Regional Library is an awe-inspiring space, with an abundance of natural light and incredible views of more than an acre of preserved woodland. The building also offers two large community meeting rooms, several smaller rooms for studying, reading, or collaborating, a dynamic space for teens, and an expanded children's area. This new regional library is also outfitted to serve the area's technology needs, with more than 50 public computers, a maker space, and LFPL's first laptop checkout kiosk. And, of course, it offers more than 120,000 books, DVDs, and other materials!
COLLIDER Artist-In-Residence Program
South Central also includes another first for LFPL, an artist-in-residence space called COLLIDER, made possible through generous funding from Councilwoman Madonna Flood. This new programming space will feature rotating artists throughout the year with whom patrons can interact, both informally and at regularly occurring programs. Learn more about the COLLIDER program.
LEED Certification
Built with advanced "green" technologies and eco-friendly architectural design, the South Central Regional Library was awarded LEED Gold-certification in February 2018. LEED stands for Leadership in Energy and Environmental Design, an internationally recognized green building certification system providing third-party verification that a building was designed and built sustainably and with low environmental impact in mind. Nestled on more than an acre of preserved woodland, the Library's green features include geothermal heating and cooling, daylight harvesting interior LED lighting, a green roof, energy efficient windows and fixtures, and reclaimed wood from the site along with other environmentally-friendly building materials.